An elegant site for a lavish brand – Frank Zampa launches a new website'
Frank Zampa Jewellery a prestigious brand renowned for quality and fine craftsmanship has just launched a lavish new website built and designed by ICON to showcase its finest products as well as complement its exceptional customer service and loyalty.
Classic and elegant yet simple and modern ICON has carefully designed this website to reflect the company's brand values and its products including diamonds silverware and wedding rings.
Frank Zampa Jewellery web site Icon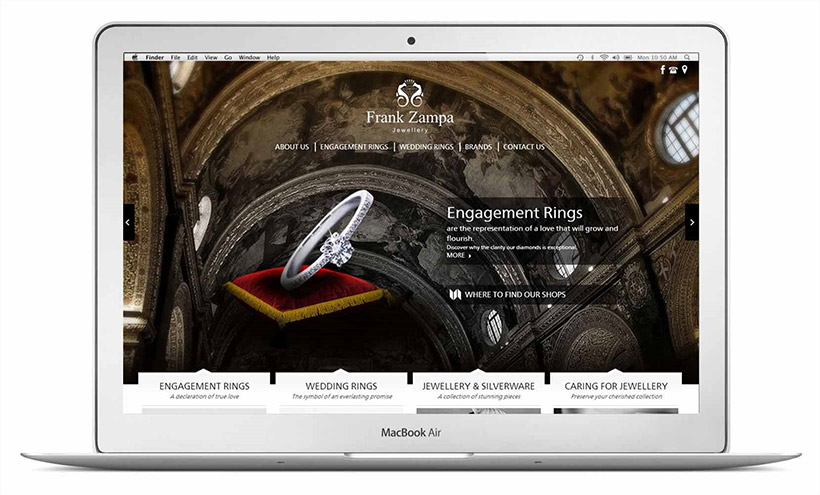 The new website does not only showcase the company's extensive catalogue 24 hours a day but further addresses one of the customers' main issues; choosing the right diamond ring. Customers can now follow Frank Zampa's online guide to learn more about the ideal cut colour clarity and size (carat).  Getting in touch with Frank Zampa Jewellery is easier than ever before through the new site as well as through Facebook which can be accessed through a simple click from the site.
Users are offered helpful guides a history of the family-owned business as well as information about the services offered by the company such as diamond upgrades. This newly developed website features search engine optimised content for better search engine retrievability and serves as a tool to educate viewers about jewellery and diamonds and also displays customer's feedback and testimonials.
The website is built on a robust content management system that facilities the ability to keep the site up to date and is fully responsive. This provides an optimal viewing experience across all devices including tablets smart phones and computers. Designed with the end user in mind the site provides high-resolution images of all products available and a description of each piece of jewellery and silverware brand. It is simple and neat and being responsive ensures that anybody who visits the site gets the best experience irrespective of the device used.

"Our newly developed website reflects our brand values our effort to bring the finest and elegant quality to our customers as well as explores new trends and introduces new products. Through the design and development of this website ICON has enabled us to reach our consumers and display our variety of brands in the most efficient and effective way using the newest technologies  and therefore ensuring the best customer service that we can offer." Loredana Zampa Director

Tags: Software Services, Web Development