Women are in a distinct minority in the technology workforce with an even smaller proportion of female executives having leadership roles. Malta has made massive strides over the past couple of decades however we still have quite a long way to go to achieve better Gender Equality in the workplace.
At ICON, we're committed to supporting Gender Equality. Last year, ICON received the Equality Mark Certificate by promoting a philosophy and practical policies of equality in the workplace. This award, received from the National Commission for the Promotion of Equality, certifies ICON as an equal opportunities employer that demonstrates a real commitment towards best practices in this sector.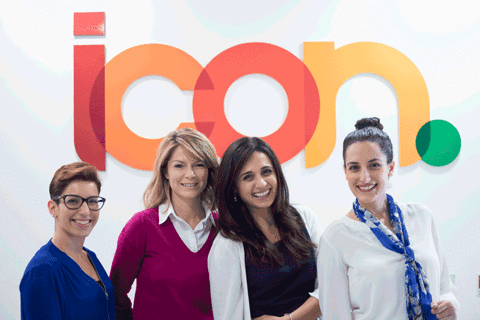 ICON is extremely fortunate to have a team of top-performing women within its team, who work together to innovate and deliver enabling technology solutions to our demanding clients. We're delighted to showcase our female talent which work relentlessly to step up ICON's game. These women are a positive response that shatters the common stereotype that coders and techies can only be male.
ICON's Business Development Manager, Christine Falzon, talks about her professional accomplishments over the last year:
Today, ICON operates in five key markets including Malta, Luxembourg, Belgium, the UK and Italy. Our service offering has evolved from website development to large software development projects with integrated digital solutions.
This places ICON in a unique position to offer highly customised solutions which are tailored to meet specific business objectives. The high-quality output and added-value service that we offer our customers is second to none. This level of service, together with my experience in the travel industry, has enabled me to win and retain ICON's key strategic customers.
I am very proud to be part of a leading technology company which puts its employees in the 'driving seat' and empowers them to become the best at what they do.
ICON's Business Analyst, Ambra Cristaldi talks about her main personal and professional accomplishments over the last year:
On a professional note, I'm extremely proud to have been involved in overseeing the development of Luxembourg Airport's digital project, launched earlier this year. From a professional development perspective, I was introduced to various new platforms and tools including Jira, Trello, VSTS, SalesForce, Slack, WordPress; and I got a first understanding of advanced Digital Marketing principles.
On a personal note, I overcame many tough challenges during 2016; relocating to another country with very young children, aged 1 and 2 years old. I also set up a new life style and routine with no impact on my family and I've been able to allocate some time for myself by starting physical training again after many years away from the gym due to giving birth to two daughters.
ICON's creative and highly motivated Senior Digital Marketing Executive, Nikki Schinas talks about her main personal and professional accomplishments over the last year:
Professionally, one of my greatest accomplishments over the last year was publishing the whitepaper 'Consumers' Use of Social Media in Malta' and presenting the key findings to a large audience of C Suite executives at the Malta Chamber of Commerce. I was also involved in working on a number of large projects, such as Luxembourg Airport and participated in a discussion panel at the Microsoft YouthSpark Live Malta 2016 event. I'm also excited to be flying out to Dublin to attend one of the largest European events on digital marketing on behalf of ICON.
On a personal note, my main achievements were working towards my Advanced 2 Cecchetti ballet exam and handling digital marketing for a number of NGOs; including 'Undivided' – an event which took place last October and was attended by 2,000 people.
ICON's Office Administrator, Rachel-Ann Said, talks about her main personal and professional accomplishments over the last year:
I'm very proud of my accomplishments here at ICON. In just over a year, I managed to successfully grow into my position in ways I couldn't imagine when I joined the company. I serve as the company's Equality Officer and attended various workshops on equality and anti-harassment at the workplace. I oversaw the introduction of a new digital recruitment system – one which involved integrating thousands of CVs into a streamlined workflow. I also qualified as the company's internal ISO9001:2008 quality assurance auditor after receiving training on the subject.
We believe that there are ample opportunities for technology careers in Malta and ICON will encourage and support the upcoming generation by providing meaningful female role models who are code heroes and technology mentors.
Get in touch with us today to find out more about what it's like to work at ICON.
Tags: Equality Mark, International Women's Day


Categorised in: Insights