Interns get the chance to try their hand at the career they're aspiring to.
Every year ICON welcomes through its doors interns from various countries. Not only does an internship offer students the chance to learn and discover new facets that may be of interest but it can also be the deciding factor that best forecasts if this field is something that would interest the intern as a future career choice.
Our latest intern
Roswitha Strobl
has been at ICON for the last 3 months. Hailing from Austria Roswitha has reached the end of her internship. Here we ask her a few questions about her experience as an intern at ICON and how it was beneficial for her:
1) What were your expectations of ICON before you joined the team?
My expectations before joining ICON were to get a deeper insight and understanding of how the processes of a web development and online marketing company function. As I have previous work experience my goal before arriving in Malta was to get international experience and work on improving my English language skills.
2) What did you do at ICON and how does it relate to the degree you're studying?
Working at ICON has provided me with a better understanding and a hands-on experience of ICON's Content Management System
ICON.Snap™
as I have worked on various types of content for client websites. A very exciting project I have worked on was the marketing campaign for the product launch of
ICON.Workshops™
. Dealing with topics such as online marketing project management and web development matched perfectly with my interdisciplinary degree course "Communication Knowledge and New Media".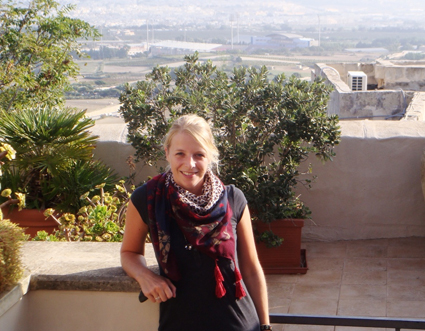 Roswitha Strobl was a fantastic addition to the ICON team
3) How was your experience at ICON?
The time flew by very quickly and I bonded very well with my fellow colleagues at ICON. I was thoroughly involved in the sales process and have reached various clients. I have also learned the importance of measuring online campaigns and have thoroughly enjoyed participating in various e-Marketing workshops that ICON has supplied. I've learned something new at each event and was able to meet new people in this field.4) How did you find the working environment?
l have enjoyed the young and friendly team at ICON!
5) What are your fondest memories at ICON?
I will really miss my colleagues the lunch breaks and the Maltese language.
6) What lessons are you taking back with you to Austria?
The practical insight into E-Marketing has showed me that this is the field in which I want to continue work and develop in and that every business deals with clients similarly in every country: Offering optimum customer care and support and supported by a great team.
Tags:
Internship