"ICON has understood our goals and gave us invaluable advice on how the site should operate in relation to our core business" – Neville Bezzina consultant at MUOVO.
MUOVO the recruitment agency which allows career seekers to connect with great employers has rebooted its website to focus on its core tenet of providing access to quality career opportunities. The agency has been operating successfully in the recruitment arena for the past four years and has focused on building a core offering of recruitment and career services to professionals seeking opportunities in Malta.By introducing a robust and flexible job search engine that plugs into the whole of MUOVO's services the new www.muovo.eu now allows professionals to fully initiate and follow a path towards new career successes.
The ICON team diligently worked to re-develop the MUOVO brand for the contemporary web introducing a focus on flexibility and openness in design and function. Users can now easily navigate to find the right content and take relevant action read up on the latest news share vacancies with their friends and subscribe to email or RSS alerts. At the same time ICON's experienced web design team focused on retaining the look and feel that candidates have come to expect from the company keeping the general theme of fun and bright colour palettes while showcasing the accessibility of the company through its easy-to-use website.
Indeed "the whole idea of re-launching MUOVO's online portal focuses on what we do well: helping people find the right job. ICON has understood that and gave us invaluable advice on how the site should operate in relation to our core business " explains Neville Bezzina a consultant at MUOVO.The newly revamped website is all about facilitating the job search process. In a few easy steps candidates and job seekers can find available opportunities and register their interest. The job seeker can either find the right vacancy via job title or simply type or choose the industry where they would like to develop a career and browse through a range of open opportunities.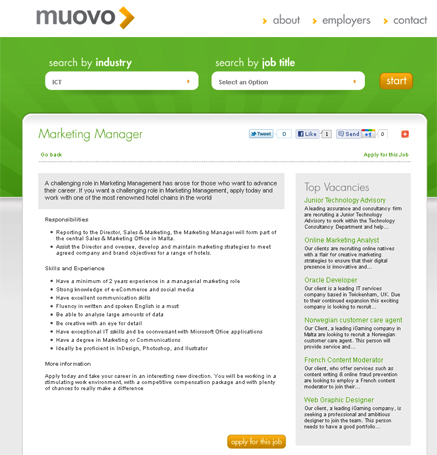 ICON has really developed a website that showcases the flexible and personalised processes MUOVO uses to empower people to advance their careers. What users see when they use the site is in fact only part of the value that the new site created for MUOVO. The search engine is complemented by ICON's advanced Content Management System – ICON.snap™. The new back-end infrastructure of the site allows for endless variations of content to be easily inputted and also includes an

Tags: New website, Website Design & Development