Mariner's new website embraces the company's brand concept and values.
Mariner a locally-based investor developer and independent operator of medium-sized seaport container terminals has unveiled its new website designed and optimized to offer an enhanced user interface for a better visitor experience. Designed by ICON the website is more than just a showcase; it offers an interactive place where the company can communicate its vision corporate responsibility and investment opportunities with key stakeholders.
The visually-appealing and user-friendly site provides an information platform about its Baltic Venetian and Albanian port terminals as well as its water transport business in Venice. Mainly aimed at Business-to-Business (B2B) companies Mariner wanted to enhance its brand presence online its brand awareness and consistency.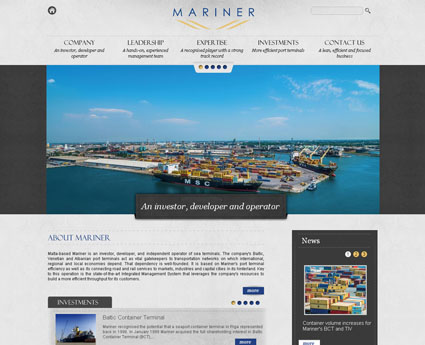 Mariner's new website displays clearly all its services
The new website offers a professional and an appealing colour scheme whilst displaying clearly all the services the company's aims and missions investments as well as an interactive map displaying the company's location.
In addition to a refreshing new design Mariner has rejuvenated its logo and developed corporate stationary to coincide with the launch forming part of their overall digital strategy. With the assistance of a professional photographer scenic photographs were taken at key locations to promote the company's terminals. Adding visuals to the website engages users and keeps visitors interested.
ICON also deployed a professional photographer to capture vibrant images

"The new site encompasses our business vision fully and lives up to our expectations complete with a full range of information about Mariner " said Michela Borg Executive Director at Mariner. "ICON not only gave the company logo a makeover but it has developed a website that embellishes the company's image. Considerable thought has gone into the design of the web presence and into the development of the corporate stationary which we see as a major step forward into the enhancement of the brand's presence online."

 

ICON has also developed a brand strategy for the company by deploying a professional photographer to capture vibrant and idyllic images for a softbound book for the company. ICON was also the brains behind the creation of custom stationery for the company kitting Mariner with a full brand package.

Mariner uses ICON's enhanced

Content Management System

ICON.Snap™ which facilitates web administration duties whilst also drawing detailed attention on the benefits of search engine optimization for better search engine ranking.

The new Marin

Tags: New website, Website, Website Design